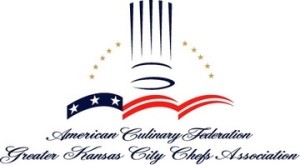 Ready to learn more about the Greater Kansas City Chefs Association?
Back in the 1970's, Kansas City had a small group of German Chefs who helped shape what we have come to know as the Greater Kansas City Chefs Association. These Chefs transformed the culinary landscape of Kansas City and were the guiding forces behind the formation of the Chef's Association.
In 1971 several chefs met in hopes of establishing a local association. The American Culinary Federation Greater Kansas City Chefs Association was established in 1973 after a charter from the American Culinary Federation (ACF) was granted and has grown to be one of the largest and most respected in the United States. A few of the founding members were Gerold Janzen, Klaus Sack, Jess Barbosa, David Kamel, Karl Senn, Wulf Koerper and Kurt Schlegel.
Four years later, Hans Enderlin, then the Executive Chef of the Muehlbach Hotel, met with Jerry Vincent at Johnson County Community College to make plans for an Apprenticeship Program. The Apprentice Program began in 1976 and has been going strong ever since. Pat Sweeney has served as the Apprenticeship Chairman since 1985 and is credited for developing a nationally recognized program.
The American Culinary Federation Greater Kansas City Chefs' Association now boasts a combined membership of over 400 professional chefs, apprentices, and purveyor members, and is one of the largest ACF chapters in the country.
The Greater Kansas City Chefs' Association not only offers its members a chance to meet and network but is also involved in many community service efforts such as offering support to the Franklin Children's Center and by supporting the ACF's Chef and Child Foundation. The Greater Kansas City Chefs' Association has also received many awards and has been named the American Culinary Federation's Chapter of the Year in the past.
If you are interested in joining us, we would love for you to become a member at the Kansas City Chef's Association. Become a Member of the Kansas City Chefs Association Today! 

If you are a member or thinking about becoming a member of the ACF Greater Kansas City Chef Association, then join our email list.
Emails are sent out about meetings, Association news, and more!
Board Meeting Minutes
ACF Kansas City Chefs Association By-Laws Updated
Upcoming Events
There are no upcoming events.