No Results Found
The page you requested could not be found. Try refining your search, or use the navigation above to locate the post.
Specific Local Culinary Positions
Job Opportunity – May 6, 2019
Title: Production Chefs & Event Chefs
Company: Lon Lane's Inspired Occasions
Location: Kansas City, MO
We are looking for Production Chefs in our off premise catering company.  We produce over 800 events a year and operate as a fully custom caterer.  No two days are the same.
We cater events as small as 4 people and as large as 5000.
We offer competitive hourly rates and benefits after one year of employment, along with a 401k plan.
For Event Chefs, if anyone is looking to pick up hours we are always in need of talented chefs to manage event kitchens and run plating lines or manage buffets.
CONTACT
Stewart Lane
816-805-4232
---
Job Opportunity – April 22, 2019
Title: Executive Chef
Company: Happy Hollow Club
Location: Omaha, NE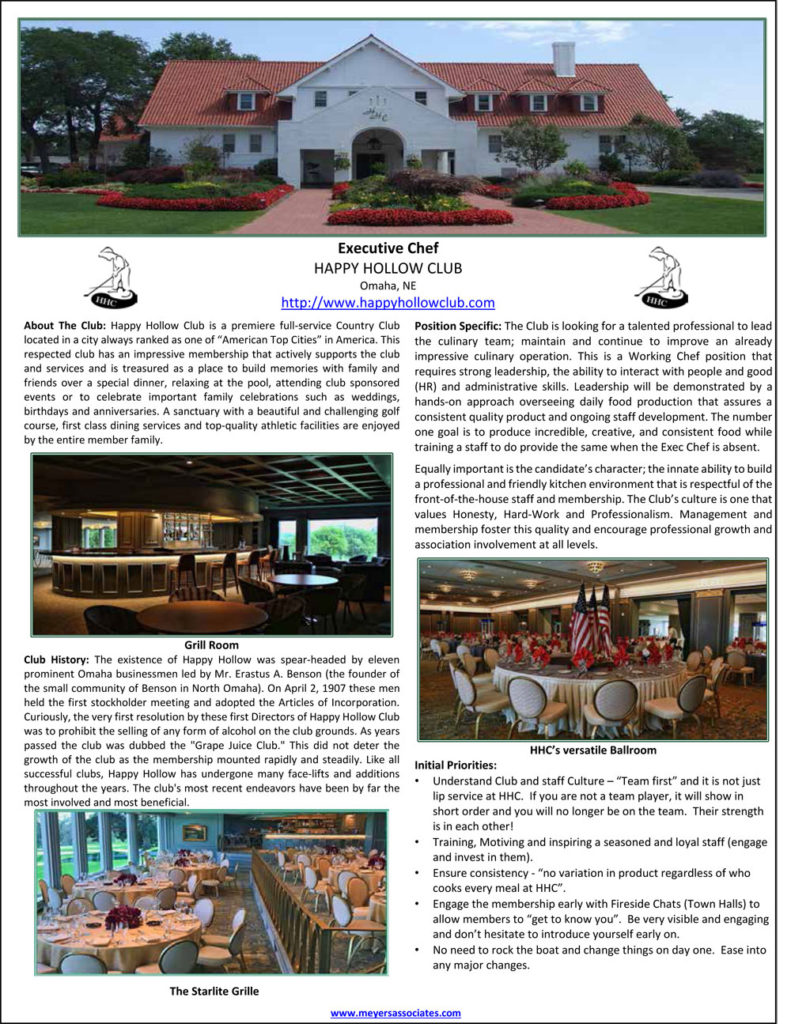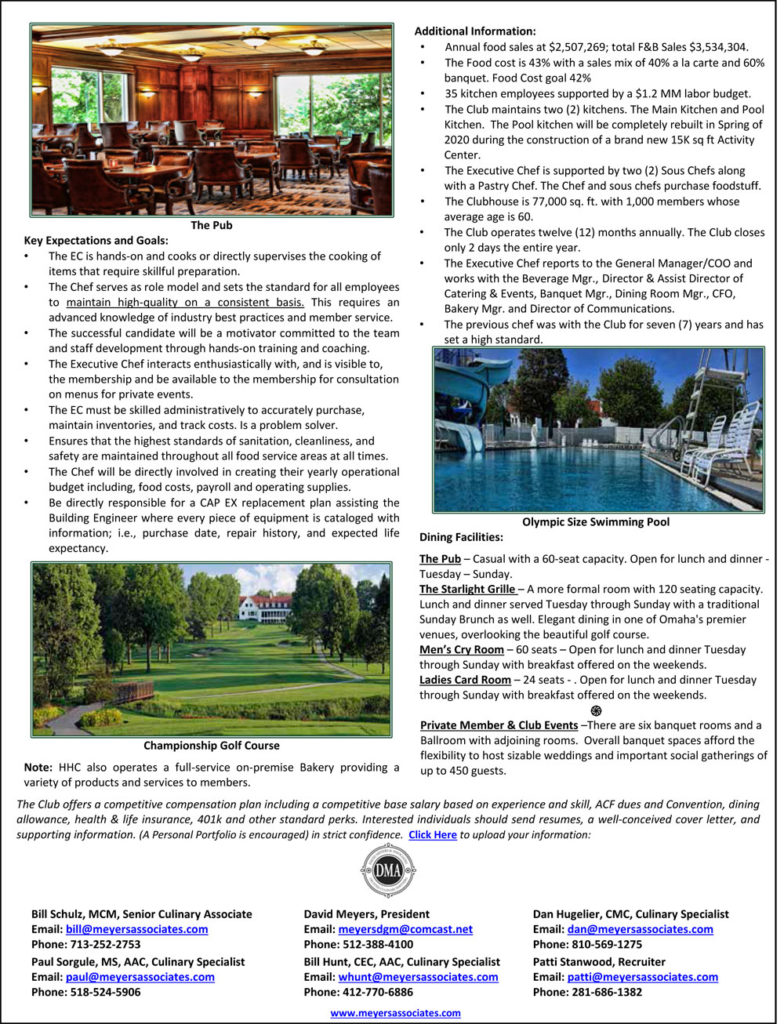 ---
Job Opportunity – April 22, 2019
Title: Executive Sous Chef
Company: Des Moines Golf & Country Club
Location: Des Moines, IA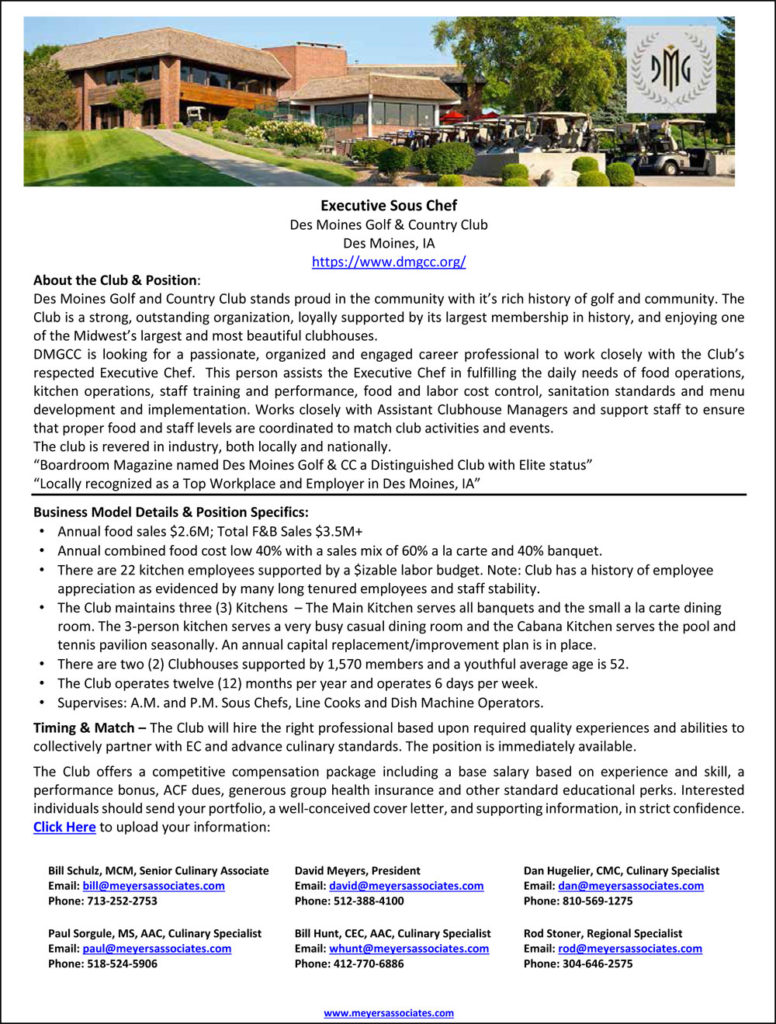 ---
Job Opportunity – April 20, 2019
ST LUKES NORTH HOSPITAL
5830 Barry Road
Kansas City, MO
COOK position
Immediate Availability
Apply on line initially through the hospital HR Website at:
www.stlukeskc.org
Contact is-
Bob Shields
816-891-6000 x 36536
This position is responsible for the active participation in the workflow in the Nutrition Service Department, including but not limited to preparation, delivery of service to customers. Workflow includes setting up food preparation. clean up and sanitation of work areas, cookware and equipment, inventory control, product rotation, proper labeling and safe food handling practices.
Accountable for operations when the Manager and Work Leaders are not available.
Food Handler Card is required within 30 days of employment.
ServSafe is preferred but not required.
Full Time Benefit Eligible Position.

---
Job Opportunity – April 11, 2019
Blue Hills Country Club (BHCC) has an immediate opening for an ENTRY LEVEL LINE COOK or APPRENTICE CHEF for our evening cold line. Work week would be Full-Time, Wednesday – Sunday 2pm until close. At BHCC you will be immersed in all facets of food production for the clubs ala carte dining, banquet operations, pool snack bar and golf tournaments. We are committed to the growth and education of our Culinary Team and we provide educational events, certification assistance, along with personal growth opportunities.
 If interested, please contact:
Todd Walline CEC CCA AAC
Executive Chef/Director of Food & Beverage
Maitre Rotisseur
Blue Hills Country Club
777 W. Burning Tree Dr.
Kansas City, Mo 64145
Phone: 816-285-7667
twalline@bluehillscc.com
---
Job Opportunity – January 9, 2018
Title: Executive Chef
Company: Pine Lake Country Club
Location: Orchard Lake, MI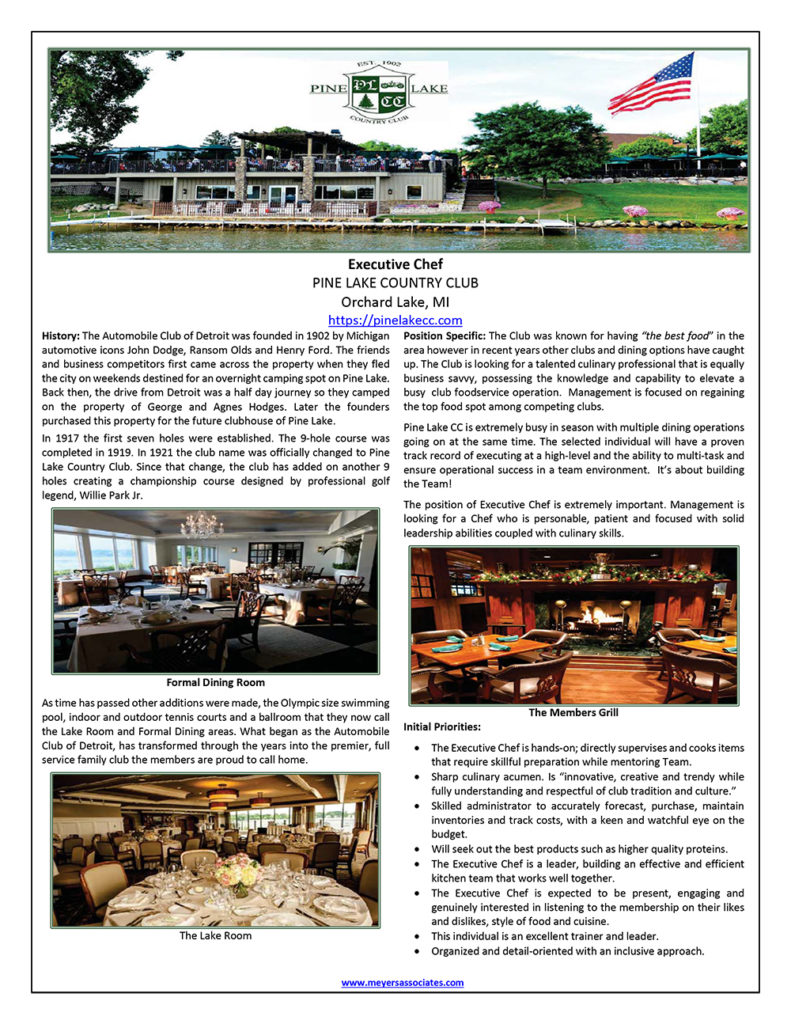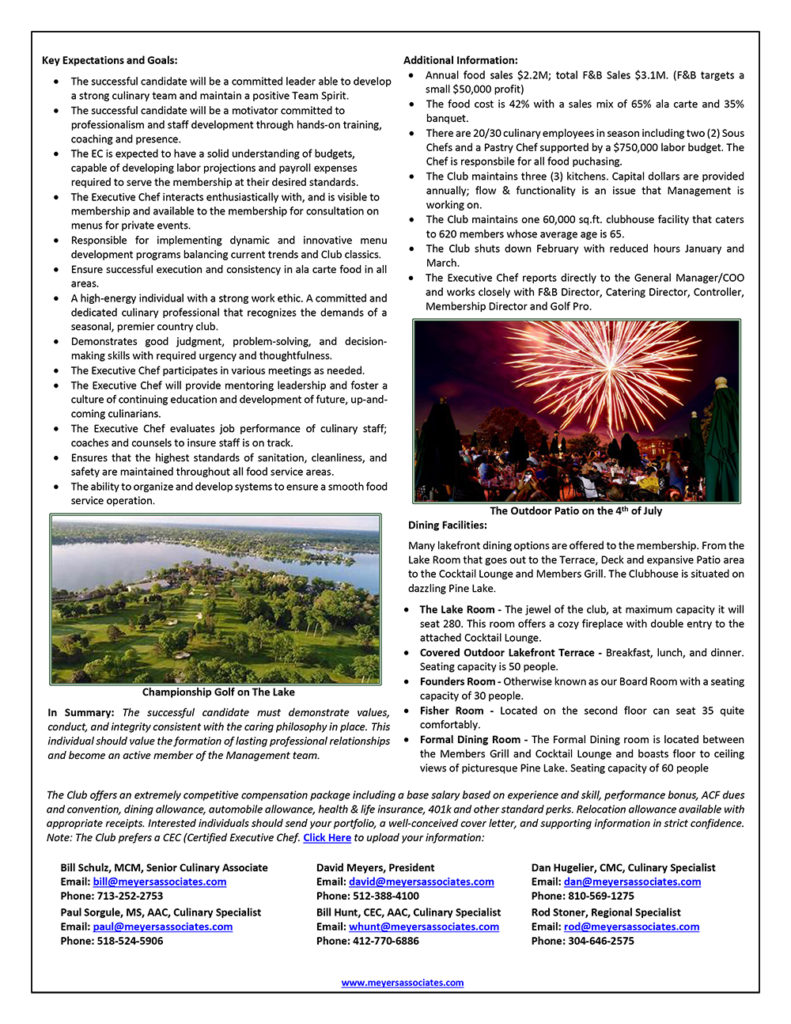 ---
Job Opportunity – January 9, 2018
Title: Executive Chef
Company: Des Moines Golf & Country Club
Location: West Des Moines, IA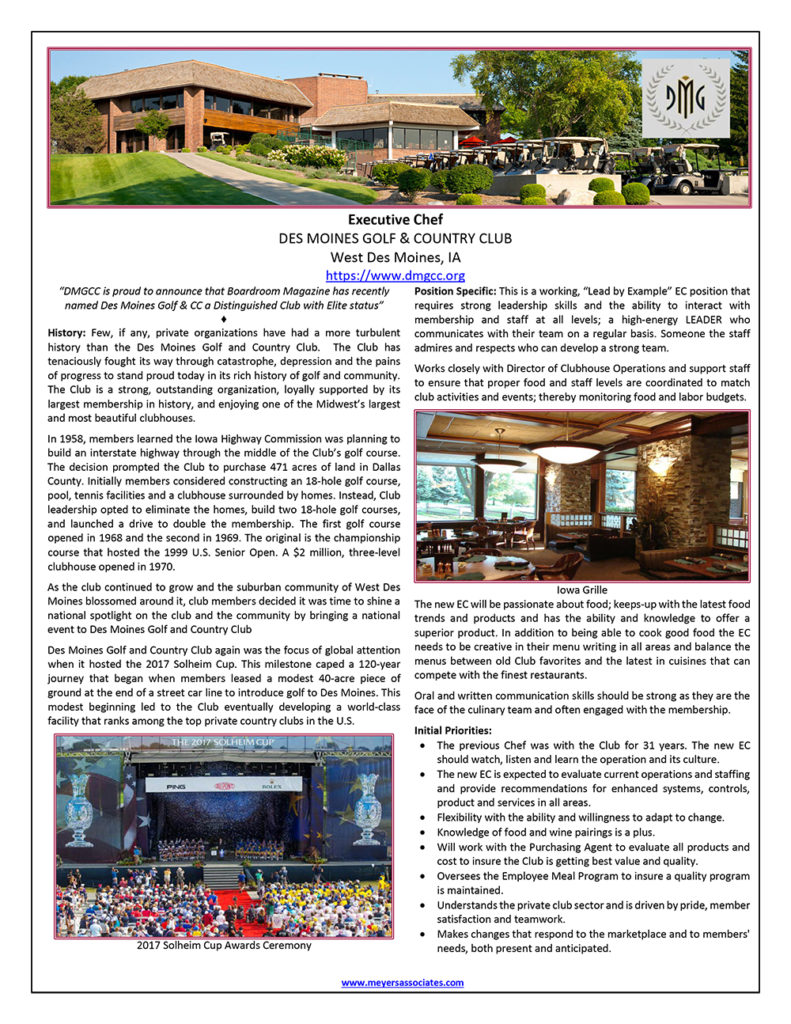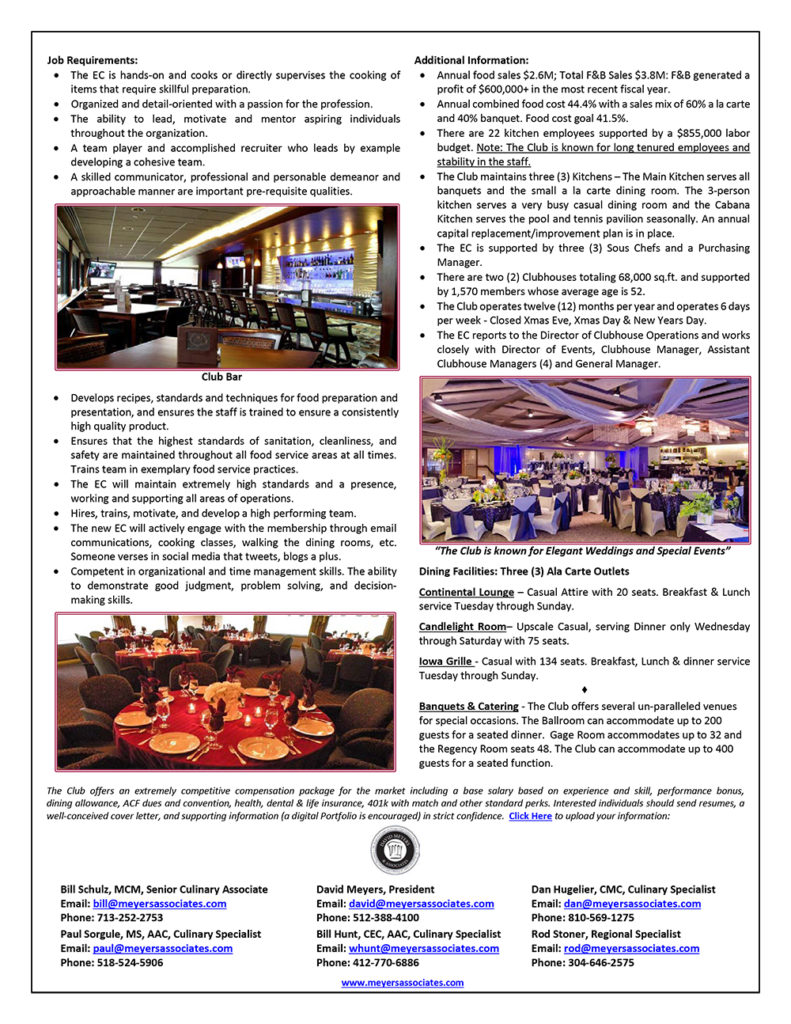 ---
Chef and Culinary Job's and Job Searches


Get Chef Jobs 

ChefsEmployment.com 

ChefJobs.com 

StarChefJobFinder 

WowJobs.com 

Search4Jobs 

Indeed.com 

CareerBuilder 

USRestaurantCareer.com 

FlipDog Search by State 

FlipDog Search by Title 

SimplyHired 

Monster.com 

LeisureJobs.com 

MyGulliver.com 

ChefJobs.co.uk 

HCareers 

Careerjet.com

The above job search links are set for Chef type positions. National Restaurant Association: Restaurant Job Growth Hits 17-Year High in 2012, Is Third-Largest Job Creator into 2013 February 7, 2013 The restaurant industry added jobs at double the rate of the overall economy in 2012, and the National Restaurant Association (NRA) expects this trend to continue in 2013. Eating and drinking places added jobs at a robust 3.4 percent rate last year, the strongest increase in 17 years, according to NRA's analysis of new figures from the Bureau of Labor Statistics (BLS). The restaurant industry is the third-largest private-sector job creator since the employment recovery began in March 2010. The solid restaurant industry job growth in 2012 represented the 13th consecutive year in which restaurant job growth outpaced the overall economy. Overall, restaurant employment currently stands 441,000 jobs above its high-point before the recession, while the overall economy is still down 3.2 million jobs from the pre-recession peak. "The sizable disparity in 2012 job growth marked the continuation of a long-term trend," said Bruce Grindy, chief economist for the National Restaurant Association. "In fact, during the last 13 years, the number of eating-and-drinking-place jobs jumped 25 percent, while total U.S. employment rose by only 4 percent." The NRA expects restaurants to add jobs at a 2.7 percent rate in 2013, a full percentage-point above the projected 1.7 percent gain in total employment. Employment gains will continue to be driven by growth in the number of locations, as well as existing restaurants staffing up to meet an improving business environment. "The projected 2013 gain will represent the 14th consecutive year in which restaurant industry job growth outpaces the overall economy, and the third consecutive year in which the industry registered job growth in excess of 2.5 percent," Grindy added. "In comparison, the overall economy hasn't posted job growth above 2.5 percent since 1998." 
Read more
Chef Jobs, Culinary Jobs, Salary Info, Chef Employment Search, and More
"Job opportunities for chefs, cooks, and food preparation workers are expected to be plentiful because of the continued growth and expansion of food services outlets, resulting in average employment growth, and because of the large numbers of workers who leave these occupations and need to be replaced. However, those seeking the highest-paying positions will face keen competition." – Occupational Outlook Handbook 

"In 2012, the National Restaurant Association expects the restaurant industry to add jobs at a 2.3 percent rate, a full percentage point above the projected 1.3 percent gain in total U.S. employment. The industry is expected to gain back all of the jobs lost during the recession by early 2012, while the overall economy isn't expected to be back at pre-recession employment levels until 2014." 2012 Restaurant Job Growth According to the National Restaurant Association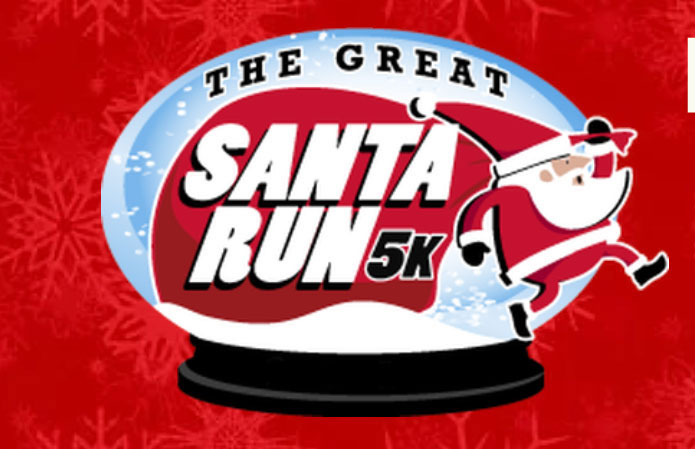 The race will benefit Operation Breakthrough. We ask participants to please bring a new, unwrapped toy to donate to Operation Breakthrough. This is also the only race we have all year that offers a hot breakfast and an indoor venue for the after race activities and...