Job Openings
Click this button for the JCCC job board at www.jccc.edu
Specific Local Culinary Positions
Job Opportunity – January 9, 2018
Title: Executive Chef
Company: Pine Lake Country Club
Location: Orchard Lake, MI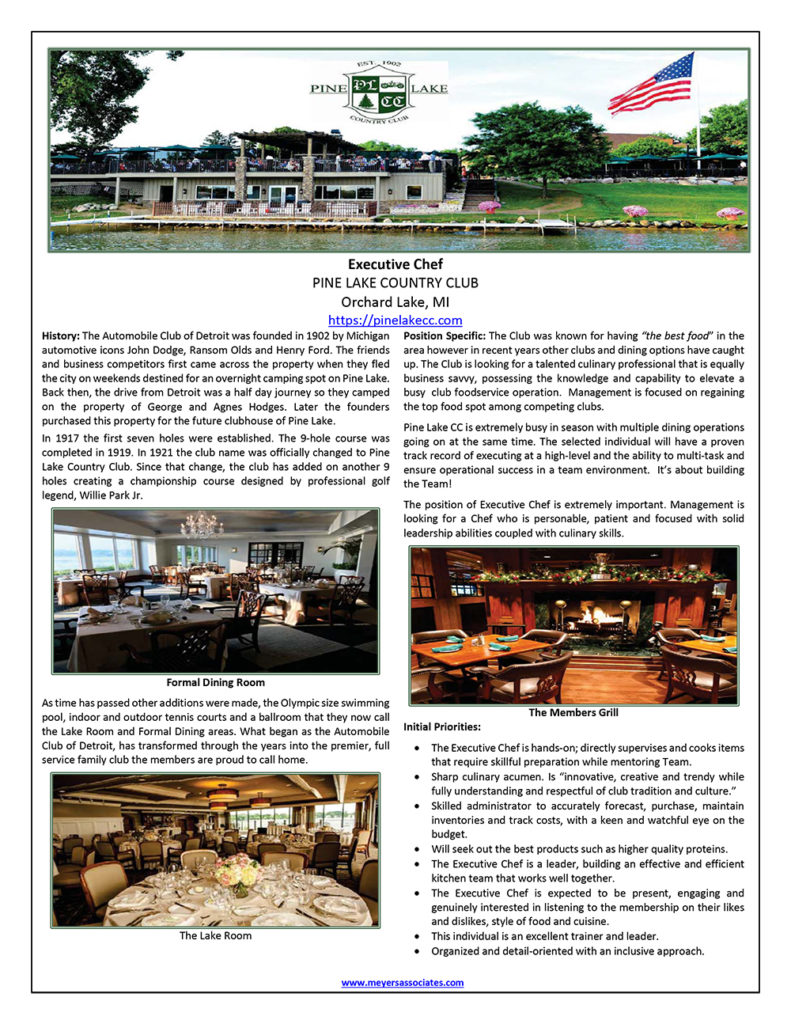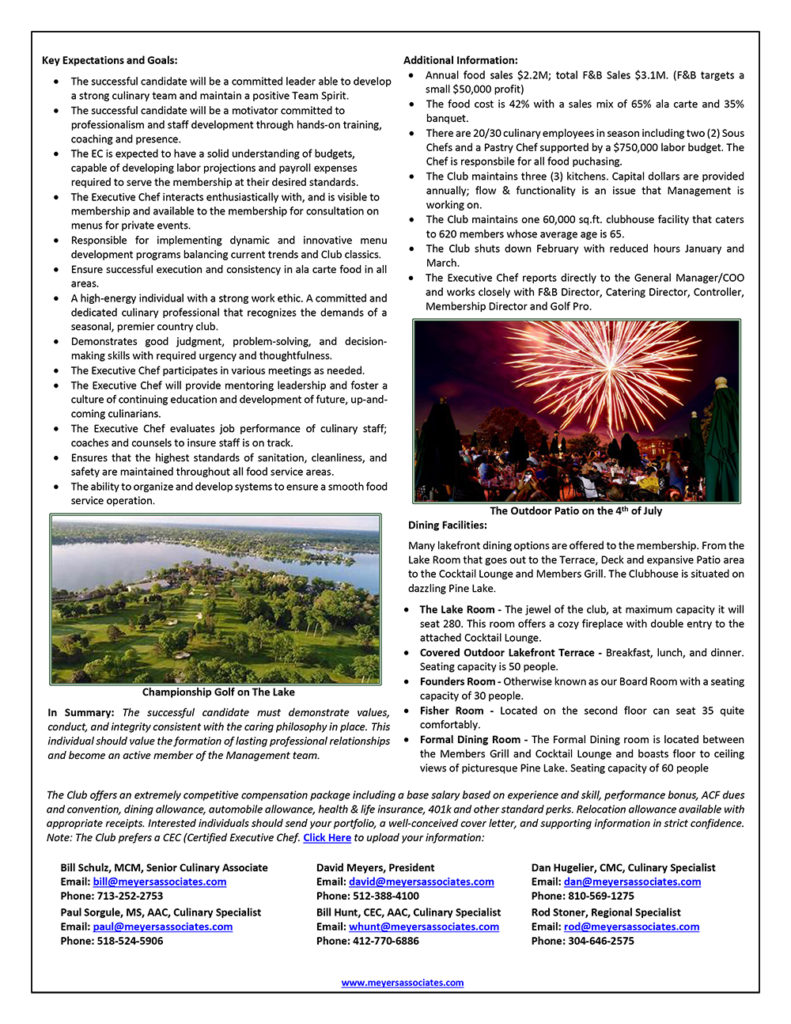 ---
Job Opportunity – January 9, 2018
Title: Executive Chef
Company: Des Moines Golf & Country Club
Location: West Des Moines, IA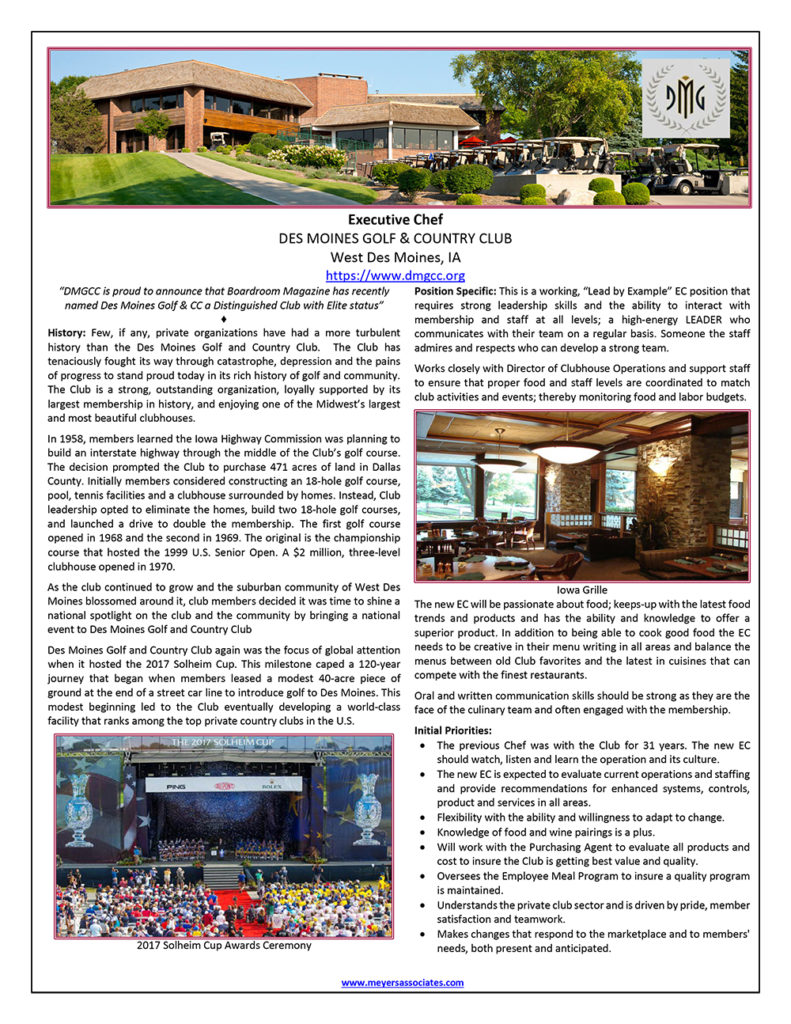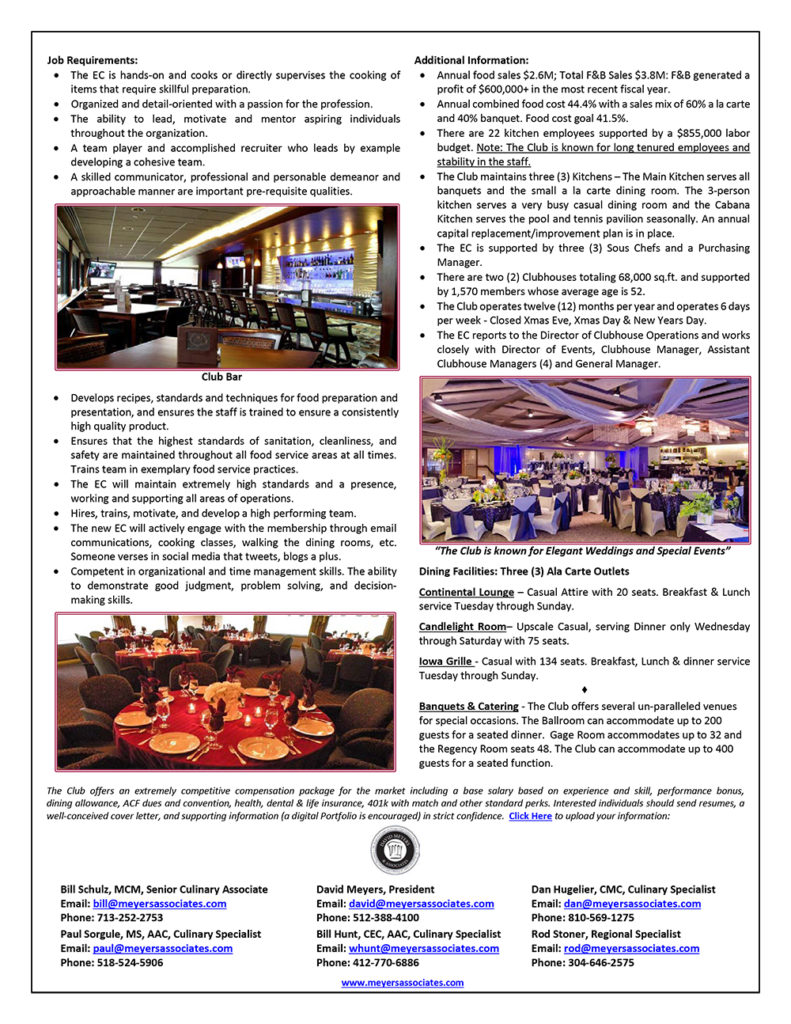 ---
Job Opportunity – October 9, 2018
Title: Executive Chef
Company: Illini Country Club
Location: Springfield, IL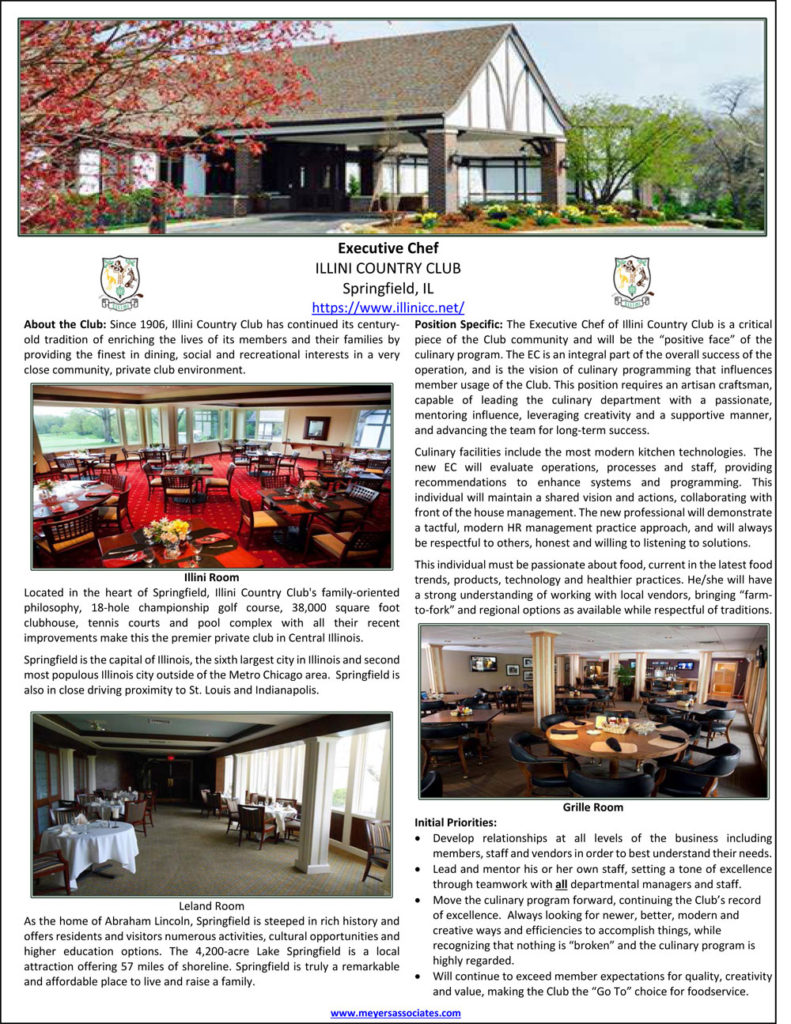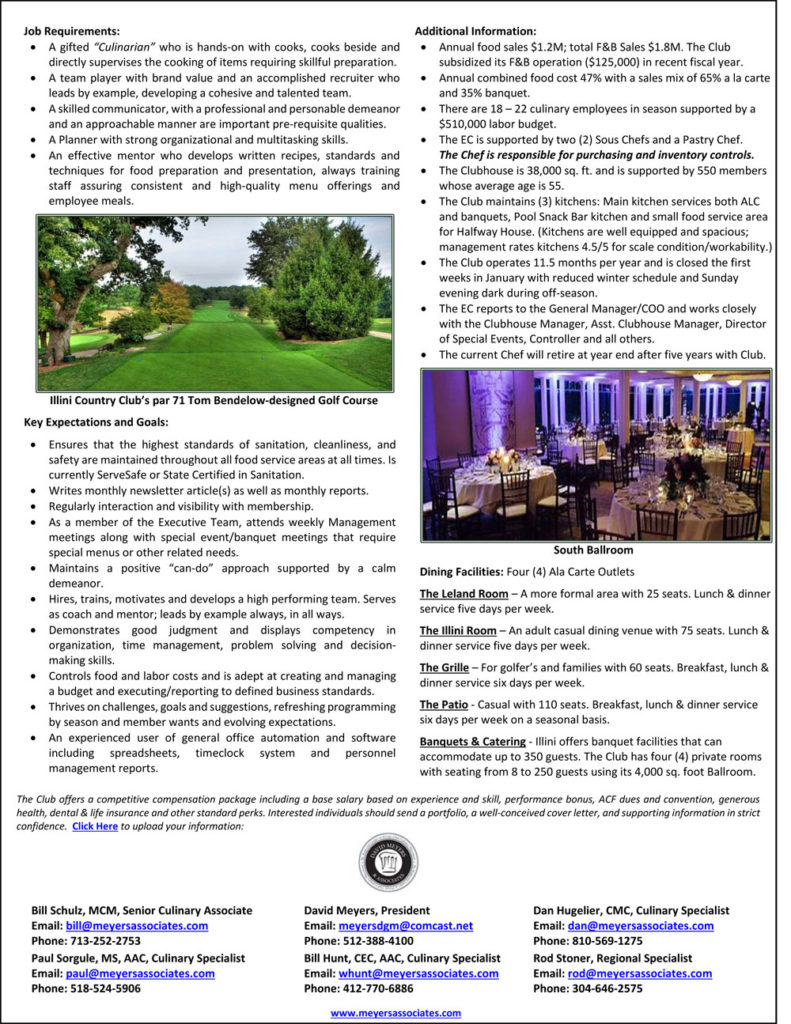 ---
Job Opportunity – September 21, 2018
Seeking a Vegan Chef to join our growing company!
We are a meal service company founded on very specific values. We are non-GMO, use fresh local ingredients as much as possible and are plant based whole food centered. The most suitable candidate will create meals based on these values branded and packaged for our customers. We seek experience, dedication, talent and motivation.
Qualifications
Minimum of 4 years of culinary experience as a chef.
Experience cooking vegan cuisine.
Self Motivated
Experienced and skilled at shifting between stations including: grill, sauté, braising and roasting.
Experience making hors d'oeuvres, sides, salads and sauces.
Experience in large batch cooking
Experienced in leading and managing a team.
Ability to multi-task efficiently.
Ordering and inventory management.
Ability to scale recipes based on the required amount needed
Values
Our candidate must have the ability to work well in all aspects of the culinary operation. They should be willing to learn and be eager to contribute. This is a hands-on position and requires willingness to do whatever needs to be done to get the job done in a professional and timely manner.
This individual should be self-motivated and able to work individually or as a team player that enjoys mentoring, leading and motivating any additional valued kitchen staff. A positive attitude is not only welcome but also essential.
We are locally and independently owned. We want to commit to delivering not only the best food presented beautifully, but also keep to our strict standards of ingredients and make sure the client is absolutely satisfied.
In addition to creating breakfast, lunch and dinner, dessert meals, the candidate will be involved in snack preparation as well. This position requires 40 – 50 hours a week, dependent on volume sold. We are interested in a candidate who is available on a full-time basis and willing to make a commitment to a long-term position. It is imperative to learn and work with our owners, understand food costs, prepare any necessary reporting and be accountable in all aspects.
Benefits
We offer a very competitive salary with potential to grow within the company.
Job Type: Full-time
Salary: $65,000.00 to $80,000.00 /year
Send Resumes to: Jennifer Morehead, j.morehead@freshhealthyfast.com
---
Job Opportunity – September 20, 2018
Country Club of Missouri is seeking an experienced, dynamic, and passionate Executive Chef to bring their ideas and experience to our fast-paced kitchen.  We're looking for someone who pushes the boundaries and challenges the status quo on culinary trends. The ideal candidate will be detail-oriented and have a commitment to phenomenal service and presentation.  Our kitchen will be undergoing a major remodel beginning January 2019.  We have a fun, family-oriented atmosphere and offer a competitive pay and benefits package that includes free meals, golf privileges, relocation assistance, vacation and sick time, company-match 401(k), and medical and dental insurance.  For more information about the position and how to apply, please visit our website www.ccmo.net/employment.
---
Job Opportunity – August 8, 2018
Recruitment Number:  2018114
Position Title: Culinary Arts Instructor
Location:  Fort Omaha Campus
Pay Rate Minimum: $70,594
Posting Closing Date: 08-19-18
Job Summary:
Teach a variety of culinary arts courses with excellence to a diverse community of learners involving both lecture and lab. Encourage discovery, maintain rigor, and foster innovation in at least two of the following areas of concentration: culinary foundations, service and events, operations management, baking and pastry, and restaurant cookery. Work together with other faculty and staff in order to achieve common goals in curriculum development, outcome assessment, College and community engagement, and professional development. Will demonstrate respect and responsibility with all resources.
Qualifications:
Associate's degree in field and 8 years full time related occupational experience in field with at least 4 years in a management/professional level Culinary position OR Associate's degree in field with Bachelor's degree in any field and 4 years full-time related occupational experience in field OR Bachelor's degree in field and 2 years full-time related occupational experience in field in a management/professional level position OR Master's degree in field and 2 years full-time related occupational experience in field required. Higher education/Community College teaching experience preferred. ServSafe Certification preferred. A teaching demonstration is required as part of the interview process. 232 day, 12-month contract. Hiring process includes a background check. Position is contingent upon MCC Board of Governors approval. NOTE: College degrees obtained outside the U.S. accepted only when interpreted by transcript service members of the National Association of Credential Evaluation Services.
Instructions:
Complete an application online at www.mccnebjobs.com
Required attachments: resume and copies of academic transcripts.
Preferred attachment: cover letter.
---
Job Opportunity – July 23, 2018
DATE: July 1, 2018
STATUS: Exempt, Full-time
TITLE: STEAM Instructional Lead: Culinary Arts
SUPERVISOR: Director of School-Age Programs
LOCATION: 3039 Troost Ave, KC, MO 64109
CONTACT: 816-756-3511
Essential Functions
Develop curriculum/projects for interdisciplinary arts and/or STEM program in culinary arts for students and families
Facilitate implementation and delivery of programming with classroom teachers
Collaborate with teachers in integrating arts and STEM to promote 21st century learning including communication, critical thinking, collaboration, and curiosity
Align culinary arts projects to math and next generation science standards
Work collaboratively with a team to implement programming within STEAM
Other duties as assigned.
Education and Qualifications
Bachelor's Degree or equivalent professional experience in the development and delivery of arts curriculum/programming with an emphasis in culinary arts. Masters Preferred
Teaching Certificate preferred but not required.
Job related experience with increasing levels of responsibility is desired.
Strong verbal and written communication skills
Strong interpersonal skills and ability to interact effectively with diverse populations
Excellent organization and time management skills
High level of self-motivation and ability to work with minimal supervision
Ability to work a flexible schedule including evenings and weekends
---
Job Opportunity – July 10, 2018
Company: Aramak
Position Title: Executive Chef
Type: Full-Time
Location: Overland Park, KS
Overview:
Aramark (NYSE: ARMK) proudly serves Fortune 500 companies, world champion sports teams, state-of-the-art healthcare providers, the world's leading educational institutions, iconic destinations and cultural attractions, and numerous municipalities in 19 countries around the world. Our 270,000 team members deliver experiences that enrich and nourish millions of lives every day through innovative services in food, facilities management and uniforms. We operate our business with social responsibility, focusing on initiatives that support our diverse workforce, advance consumer health and wellness, protect our environment, and strengthen our communities. Aramark is recognized as one of the World's Most Admired Companies by FORTUNE, as well as an employer of choice by the Human Rights Campaign and DiversityInc. Learn more at www.aramark.com or connect with us on Facebook and Twitter.
Description:
Management position, responsible for developing and executing culinary solutions to meet customer needs and tastes. Offers a wide variety of culinary solutions to meet customer and client needs and tastes. Oversees and manages culinary operations to meet production, presentation, and service standards. Applies culinary techniques to food preparation and manages the final presentation and service of food.
Essential Functions:
Leadership: Ensures culinary production appropriately connects to the Executional Framework. Ensures proper culinary standards and techniques are in place for preparation of food items, including production, presentation and service standards. Manages culinary team to ensure quality in final presentation of food. Trains and manage culinary and kitchen employees to use best practice food production techniques. Coaches employees by creating a shared understanding about what needs to be achieved and how it is to be achieved. Rewards and recognize employees. Plan and execute team meetings and daily huddles. Complete and maintain all staff records including training records, shift opening/closing checklists and performance data. Multi-tasking as well as ability to simplify the agenda for the team is a must.
Client Relationship: Develop and maintain effective client and customer rapport for mutually beneficial business relationship. Aggregate and communicate regional culinary and ingredient trends.
Financial Performance: Responsible for delivering food and labor targets. Understands performance metrics, data, order and inventory trends; consistent focus on margin improvement.
Productivity: Ensure efficient execution and delivery of all food line products in line with the daily menu. Maintain integrity of the standard Aramark food offer; responsible for maintaining food quality of items at all times. Full compliance with Operational Excellence fundamentals: managing waste, standard menus, recipes and ingredients through managing customer driven menus and labor standards. Understand end to end supply chain and procurement process and systems, ensure only authorized suppliers are used. Full knowledge and implementation of the Food Framework. Ensure accuracy of estimated food consumption for appropriate requisitions and/or food purchase. Ensure proper equipment operation and maintenance.
Compliance: Ensure compliance with Aramark SAFE food, occupational and environmental safety polices in all culinary and kitchen operations. Comply with all applicable policies, rules and regulations, including but not limited to those relating to safety, health, wage and hour.
Qualifications:
Requires at least 4 years experience and 1-3 years in a management role.
Bachelor's degree or equivalent experience
Click here to apply: http://careers.aramark.com/ShowJob/Id/124682/Executive-Chef-Overland-Park-Convention-Center/
---
Job Opportunity – July 5, 2018
Company: Camp Siloam
Position Title: Executive Chef
Type: Full-Time
Location: Siloam Springs, AR 72761
Camp Siloam's Executive Chef leads a team who create an environment that excites and attracts people to work, volunteer and engage in an unrivaled culinary camp experience…people talk about coming to camp for the delightful experiences at Cedar Hall.
The Executive Chef extends, preserves and protects the culture of Christian ministry at Camp Siloam, e.g., "brings glory to the Lord in all that he or she does," according to Colossians 3:23. Our Executive Chef is a key member of the leadership team serving up to 1,200 students daily in a new 30,000 square foot facility with state of the art culinary equipment. www.campsiloam.com
The Hiding Hand Principle is the idea that when a Christian community decides to take on a project, the ignorance of future obstacles allows the leaders to rationally choose to undertake the project. Once it is underway, team members find themselves utilizing God's and their own creativity to overcome the obstacles they encounter because God is involved.
The term was coined by Albert O. Hirschman.
EXECUTIVE CHEF RESPONSIBILITIES
Supervises a summer staff of approximately 20 seasonal workers, volunteers and Servant- Leadership (S-Core) campers. On occasion may supervise program personnel. Personnel responsibilities include:
Ensures the proper staffing of the Cedar Hall.

Planning, assigning and supervising the work of seasonal staff.

Checking hours and coordinating payroll with the Director of Finance and Admin.

Casting vision, encouraging, motivating, correcting and disciplining staff as appropriate

Conducting regular kitchen safety training sessions and summer staff orientation.

Conducting performance reviews of staff.
Organize and lead a new catering operation for up to 1,000 people. Twenty-five weeks are available on-site as well as the myriad opportunities off-site to plan, organize and manage catering operations for churches, non-profits and NW Arkansas corporations for 200-500 people.
Salary: $39,000 base and/or commensurate with experience. Benefits: Medical, Dental, Vision, Life Insurance, Vested Retirement & Cell Phone
Submit your Resume & Cover Letter to: Bill Wilkie, wwilkie@tec-search.com
---
Job Opportunity – July 2, 2018
Company: Spring Lake Country Club
Position Title: Executive Chef
Type: Full-Time
Location: Spring Lake, MI
Spring Lake Country Club is a progressive, family-focused club loaded with amenities located on a picturesque lake and in a great town to raise a family. This is an amazing opportunity for candidates with the right credentials to serve over 400 member families at this premier club in a location with a great quality of life – neighboring Grand Haven was recently named the "happiest seaside town in America" by Coastal Living magazine and Muskegon and Grand Haven beaches were voted the #1 and #2 best beaches in Michigan by USA Today.
The Club's purpose is "to provide a sanctuary to enrich lives." We are looking for a talented leader who embodies SLCC's team core values of dedication, pride and attention to detail; respecting tradition while providing innovative leadership; and providing a welcoming and warm atmosphere and who applies these values to achieve excellence every day.
The club has three kitchens and does approximately $2.1M in F&B revenue annually (65% a la carte and 35% banquet).
For more details about the Spring Lake Country Club, its F&B program and the job description, as well as directions on how to apply, visit: http://bit.ly/slcc-ecvideo.
---
Job Opportunity – June 22, 2018
Company: RL Schreiber
Position Title: Regional Sales Representative/Purveyor
Type: Full-Time
Location: Kansas City
We are looking for persuasive entrepreneurs with a passionate drive for sales. While the position is independent, your road to success is supported by a strong team & resources. You'll have access to:
R.L. Schreiber website & quarterly e-newsletter

One week on-site training program in Lebanon, KY

Two week on-boarding training in your territory

Region Sales Operations assistance from three tiers of management

National Accounts team sales support

Consigned inventory

Laptop computer and printer – at no charge

Toll-Free Distributor Service Center

Plant to storage facility shipments

R.L. Schreiber apparel provided

Product marketing and promotions
Mark Your Territory. 
If you value your independence and desire an

opportunity for unrestricted income potential, an

R.L. Schreiber distributorship is made to order for you.




 
BENEFITS INCLUDE:
Defined geographic distribution territory

Superlative product quality and variety

Excellent brand image & reputation

Commission earned based on a percentage of wholesale prices

Sales blitz support from National Accounts team

Ability to own and operate as an Independent Distributor
GREAT BUSINESS OPPORTUNITY!!!
Our products are recognized as quality leaders in our industry.
We are a company in full expansion mode and the successful Distributor will have unlimited opportunities for growth and uncapped income potential.
Company Overview
R.L. Schreiber, Inc., is a dynamic family-owned food manufacturer with offices in Lebanon, KY and Pompano Beach, Florida. The company was established in 1968 and currently manufactures food bases, gravies, sauces, spices, spice blends and gourmet food ingredients for the food service and retail markets. The corporate philosophy of manufacturing superior products and providing excellent customer service has been a key to the success and longevity of the company.
Requirements
The individual we are looking for is SALES ORIENTED. The ability and desire to cold call in a face to face selling environment and turn prospects into accounts is a MUST. You will be selling and delivering food service products to existing accounts and calling on Chefs in Restaurants, Hotels, and Healthcare Facilities prospecting for new accounts. A minimum of 5 years direct business to business face to face selling is directed.
The SALES PROFESSIONAL we are looking for will possess the following attributes:
Extremely hard working and self motivated




• Highly honest and ethical




• Organized in thought and action




• Able to work independently




• A great communicator who is customer focused and ENJOYS serving people




• Closes a sale by learning and addressing customer needs and concerns




• Outgoing personality who easily talks with people
You must own or be willing to purchase a delivery vehicle (at minimum a 3/4 ton Cargo Van are a must!!) and provide a storage unit (10 x 20 preferred) for our products to be considered for the position. This position earns commissions based on sales and your ability to grow and earn are limited only by your own desires. We are looking for that individual for whom success is the only option. Although you will be given a customer base to service this is not a DELIVERY position, it is a SALES position. Only highly motivated SALES people for whom opening new doors is a passion need apply.
Send resume to: AFonfara@rlsinc.com
---
Job Opportunity – May 29, 2018
Position Title: Working Chef
Type: Full-Time
Location: Emporia Country Club, Emporia, KS
Emporia Country Club in Emporia, Kansas is seeking a Chef with a minimum of three to five years' experience as a Chef or Kitchen Manager in an upscale restaurant or private country club.
Emporia Country Club has opened a new 80 seat full-service restaurant with outdoor dining coming. A new state of the art kitchen will provides numerous opportunities for varied food preparations from home-style meals to upscale small plates and dinners.
Job Summary
Reporting to the Club's General Manager, the Chef will be a hands-on working Chef responsible for the daily management of culinary operations at the Club. Responsibilities include but are not limited to menu production, purchasing, inventory control, personnel management, and training. Strong administrative and fiscal management skills are also required in overseeing the food and labor costs while producing consistent member satisfaction. Working closely with the management team the Chef will actively promote to the membership Achieving Favorite Place Status with our members and their guests.
Responsibilities for the Chef
 Responsible for all culinary operations including the restaurant and all banquet
events at the Club and provides oversight and direction to the culinary team.
 Recruit, hire, teach, evaluate and guide a culinary team.
 Respond to club member comments and requests in a timely and professional
manner.
 Stress a "member-first" service culture that guarantees member satisfaction.
 Sets the pace for the culinary team and actively promotes a safe work
environment and formidable team collaboration
 Responsible for the financial performance and reporting for all culinary
operations, including ordering, inventory controls, portion and pricing controls as
well as labor cost controls.
 Meets on a regular basis with the General Manager and management team
about planning and preparation for the restaurant and events at the Club.
 Assist in the development of department annual operating and capital budgets
and meets or exceeds budgeted expectations.
Benefits
 Base Salary commensurate with experience and education
 Annual performance bonus potential
 401K, health, and dental per Club policies
 Professional association dues and uniforms
 Complimentary membership
Experience:
 Chef: 3 years
Education:
 Associate
License:
 ServSafe Manager
To apply contact: DON SCHRACK dschrack2@msn.com
---
Job Opportunity – May 9, 2018
Position Title: Hospitality/Culinary Arts Program – FT/Permanent Instructor Position
Type: Full-Time
Location: Flint Hills Technical College
The Flint Hills Technical College is seeking a dynamic, full-time, permanent faculty member to join its innovative and growing Hospitality/Culinary Arts Program, beginning August 2018. This individual will instruct technical college students in culinary and other hospitality/foodservice related courses.
The candidate will have, or be in the process of obtaining/willing to obtain, an Associate Degree, ACF Certifications, ServSafe Certifications, and Dietary Management Certification. Additionally, applicants must have either two years of recent experience in the field or two years of teaching in the field of instruction. The successful candidate needs to have excellent verbal and written communication skills, as well as be able to successfully complete a criminal background check.
To apply, please go to my.fhtc.edu and click on the Careers tab, or feel free to provide a cover letter and resume via email to Jacinda Kahle, Director of Human Resources at jkahle@fhtc.edu or call 620.341.1384 for job details. Applications will be accepted until the position is filled. Flint Hills Technical College is an EEO employer.
---
Job Opportunity – March 30, 2018
Chef Needed for Blue Heron Restaurant
Please contact Joseph Boer @1-573-365-5743
---
Job Opportunity – March 2, 2018
Position Title: Executive Chef
Type: Full-Time
Location: Kansas City, KS, Kansas City, MO, Olathe, KS
Description
American Dining Creations, a national leader in corporate dining, catering and retail services, operating in 35 U.S. cities and 15 states, is currently seeking candidates for the position of Executive Chef.  American Dining Creations is also the caterer of choice for many Fortune 500 companies.
The Executive Chef will serve as the leader for all culinary services.
Responsibilities:
Manage food, labor and operating costs along with budget compliance in food cost analysis and forecasting
Create and execute all menus, including meal service and catering services
Weekly inventory, knowledge of on-line order systems
Staff development, manage work schedules
Superior customer service skills are required as the Executive Chef will interact daily with our customers and clients
Qualifications and Requirements:
Bachelor's Degree or Culinary Degree from an accredited university, college, or culinary association
7++ years' experience in a similar culinary position
The ability to work effectively and enthusiastically in a time-sensitive environment
Strongly desired: American Culinary Federation certification  CEC level.
A strong compensation package is being offered for this outstanding position. Interviews start soon!
---
Job Opportunity – January 1, 2018
Position Title: Culinary Product Specialist
(Part Time/Seasonal 32 hours a week $13/hr March-November 2018)
Position Reports to (Title): Kristy Peterson, Director of Education, Outreach, & Interpretation
Department: Education
Position Summary
This part-time seasonal position assists in the transformation of Powell Gardens produce and herbs into
saleable and educational food products that can be sold at Powell Gardens, sold off site, and included weekly
or bi-weekly in the CSA. This position also assists with the Powell Gardens CSA as directed—packing
produce, episodic harvesting, conceptualization of products, product packaging, and recipe development.
This position will also assist the culinary programs contractor, marketing manager, and education department
director in developing and locating new markets/resources on-site, off-site, and online (using a platform such
as Etsy) for selling Powell Gardens edible, culinary and other useable products created with Powell Gardens
produce to generate revenue. This position may also assist with other culinary programming as assigned
under the direction of the education department director. Episodic program duties may take place on
weekends or after hours and may include dinners, classes, workshops etc.
CLICK HERE TO FIND OUT MORE AND APPLY: https://powellgardens.org/wp-content/uploads/Garden-Culinary-Product-Specialist_January-2018.pdf
---
Job Opportunity – January 1, 2018
Position Title: Contractor, Culinary Programs & Communications
Position Reports to (Title): Kristy Peterson, Director of Education, Outreach, & Interpretation
Department: Education
Position Summary
This contract position assists in elevating Powell Gardens to be a known source and destination for culinary
experiences for all audiences and a source for unique garden culinary products. The culinary
programs/communications contractor will research, develop, and help execute all food-related educational
experiences (classes, demos, tastings, workshops, lectures) episodically during 2018 in tandem with the
director of education, outreach & interpretation and in consultation with the Powell Gardens ad hoc food
committee and the Powell Gardens marketing manager. This position will work closely with regional chefs
to create unique opportunities for the public to learn about and enjoy Powell Gardens produce in the kitchen
and garden. This position will work collaboratively with the Powell Gardens marketing manager to brand
and promote these experiences and Powell Gardens products using online platforms and through foodie
networks in the area. This contract position will assist in developing and selecting chefs to potentially
activate areas in the Heartland Harvest that may become rotating "chef garden" spaces to feature varied chefs
as "artists in residence." The culinary programs/communications contractor will research and write copy to
help promote all culinary programs and products including produce and products included in the CSA
program. This contracted position is for a total of 288 hours (32 hours a month from March-November
2018).
CLICK HERE TO FIND OUT MORE & APPLY: https://powellgardens.org/wp-content/uploads/Contractor-Culinary-Programs-Communications_January-2018.pdf
---
Job Opportunity – November 24, 2017
Position Title: Chef Full-Time Nutrition Services
Company Name: Saint Luke's Health System
Location: Chillicothe, MO 64601
Apply URL: http://www.Click2Apply.net/nft47x7289js5qcr
Location: Hedrick Medical Center
Number of Hours Scheduled Per Week (1-40): 40
Employment Status: Full-time
Scheduled Shift: Swing
Scheduled Time Start: PRN – Varies
Scheduled Time End: PRN – Varies
Description
Responsible for all food production culinary and kitchen operations that provide products and services
to patients cafeteria retail outlets and catering. Provides leadership training and direction to culinary
leadership team and all production staff. Maintains budgeted food and labor costs associated with NS
production operations. Ensures all safety and sanitation requirements are met. Delegates and directs
duties to culinary and supporting staff. Ensures menus and food products comply with federal state local
regulations as well as doctors diet restrictions. Develops standardized menus hires staff performance
manages employees to set standards trains and coaches for improvement and ensures food quality and
safety standards are met. Responsible for staff schedules and ensures labor hours and assignments are
appropriate for volume needs. Ability to interact positively and professionally with all customers and
staff.
This position is located at Hedrick Medical Center in Chillicothe, MO which is 90 miles northeast of
Liberty, MO.
Minimum Requirements
Junior College preferred
2 years of chef/supervisory experience
ServSafe Certification within 1 year of hire required
Apply Here: http://www.Click2Apply.net/nft47x7289js5qcr
---
Job Opportunity – November 24, 2017
Position Title: Cook-Full Time Smithville Campus
Company Name: Saint Luke's Health System
Location: Smithville, MO 64101
Apply URL: http://www.Click2Apply.net/3fp9knjv6p8h88wv
Number of Hours Scheduled Per Week (1-40): 40
Employment Status: Full-time
Scheduled Shift: Day
Scheduled Time Start: 6:00 AM
Scheduled Time End: 2:30 PM
Description
Under the direction of the Nutrition Services Leadership Team: a Cook may fulfill any number
of responsibilities in relation to departmental operations and food preparation for patients,
hospital staff and customers of the hospital. A Cook is responsible for proper handling and
preparation of all food related items as determined by daily menus. Is responsible for using and
following standardized recipes. Accurately prepares patient meals as ordered. Accurately
prepares retail food items as needed. Prepares food for catered events, sets up catered events,
and may wait on customers in the cafeteria as needed. Is focused on high customer satisfaction
including food quality, timely delivery and customer interactions. Knows and follows all safety
and sanitation guidelines. Keeps all areas, tools and equipment clean. Aware of production
usage and assists with waste management. Helps stock, rotate, and communicate inventory
needs for ordering food supplies. The cook ensures delivery of optimal food quality, timely
service, as well as high sanitation standards. Manages resources properly. Provides assistance to
all areas as needed.
Minimum Requirements
*Food Handlers Card Required within 30 Days of Hire
Apply Here: http://www.Click2Apply.net/3fp9knjv6p8h88wv
---
Job Opportunity – October 17, 2017
Job Title: Lead Cook Nutrition Services
Company Name: Saint Luke's Health System
Location: Kansas City , Missouri USA 64101
Posted Date: 8/17/2017
Job Code: NT053
Location: Saint Luke's Hospital of Kansas City
Address: 4401 Wornall
City: Kansas City
State: MO
Country: United States of America
Category: Nutrition
Number of Hours Scheduled Per Week (1-40): 40
Employment Status: Full-time
Scheduled Shift: Swing
Scheduled Time Start: PRN – Varies
Scheduled Time End: PRN – Varies
Cost Center Name: Nutrition Service
Description
Follows direction of NS leadership. Able to open or close operations and run shifts in the absence of leadership. Oversees the execution of day to day operations. Ensures staffing levels meet volume demands. Helps ensure food quality, timely service, safety and sanitation standards are met. May be responsible for ordering, receiving and inventory control. May oversee production, waste, and portion control. Works stations and fills in for staff as needed. Handles customer complaints. Involved with training and coaching staff. Delegates duties as needed. Ensures food requisitions and caterings are delivered. Assists retail, clinical and production areas as needed. Can handle cash, follow and enforce policies and procedures. Is a team player who displays good decision making and communication skills. Maintains a positive attitude and conducts all interactions in a professional manner. Job assignment may include cook, diet clerk, cashier, or other key positions.
• Manages shift operations and maintains compliance with all Food policies, standards and procedures.
• Estimates daily production needs on a weekly basis and communicates production needs to kitchen personnel daily.
• Assists Chefswith all kitchen operations and preparation.
• Prepares and cooks foods of all types, either on a regular basis or for special guests or functions.
• Develops, designs, or creates new applications, ideas, relationships, systems, or products, including artistic contributions.
• Assists in determining how food should be presented and creates decorative food displays.
• Maintains purchasing, receiving and food storage standards.
• Ensures compliance with food handling and sanitation standards.
• Performs all duties of kitchen managers and employees as necessary.
• Recognizes superior quality products, presentations and flavor.
• Ensures compliance with all applicable laws and regulations.
• Follows proper handling and right temperature of all food products.
• Operates and maintains all department equipment and reports malfunctions.
• Checks the quality of raw and cooked food products to ensure that standards are met.
Minimum Requirements
less than 1 year experience
ServSafe Certification within 1 year of hire required
Apply Here: http://www.Click2Apply.net/tr5vs97q4h6ngz7b
---
Chef and Culinary Job's and Job Searches


Get Chef Jobs 

ChefsEmployment.com 

ChefJobs.com 

StarChefJobFinder 

WowJobs.com 

Search4Jobs 

Indeed.com 

CareerBuilder 

USRestaurantCareer.com 

FlipDog Search by State 

FlipDog Search by Title 

SimplyHired 

Monster.com 

LeisureJobs.com 

MyGulliver.com 

ChefJobs.co.uk 

HCareers 

Careerjet.com

The above job search links are set for Chef type positions. National Restaurant Association: Restaurant Job Growth Hits 17-Year High in 2012, Is Third-Largest Job Creator into 2013 February 7, 2013 The restaurant industry added jobs at double the rate of the overall economy in 2012, and the National Restaurant Association (NRA) expects this trend to continue in 2013. Eating and drinking places added jobs at a robust 3.4 percent rate last year, the strongest increase in 17 years, according to NRA's analysis of new figures from the Bureau of Labor Statistics (BLS). The restaurant industry is the third-largest private-sector job creator since the employment recovery began in March 2010. The solid restaurant industry job growth in 2012 represented the 13th consecutive year in which restaurant job growth outpaced the overall economy. Overall, restaurant employment currently stands 441,000 jobs above its high-point before the recession, while the overall economy is still down 3.2 million jobs from the pre-recession peak. "The sizable disparity in 2012 job growth marked the continuation of a long-term trend," said Bruce Grindy, chief economist for the National Restaurant Association. "In fact, during the last 13 years, the number of eating-and-drinking-place jobs jumped 25 percent, while total U.S. employment rose by only 4 percent." The NRA expects restaurants to add jobs at a 2.7 percent rate in 2013, a full percentage-point above the projected 1.7 percent gain in total employment. Employment gains will continue to be driven by growth in the number of locations, as well as existing restaurants staffing up to meet an improving business environment. "The projected 2013 gain will represent the 14th consecutive year in which restaurant industry job growth outpaces the overall economy, and the third consecutive year in which the industry registered job growth in excess of 2.5 percent," Grindy added. "In comparison, the overall economy hasn't posted job growth above 2.5 percent since 1998." 
Read more
Chef Jobs, Culinary Jobs, Salary Info, Chef Employment Search, and More
"Job opportunities for chefs, cooks, and food preparation workers are expected to be plentiful because of the continued growth and expansion of food services outlets, resulting in average employment growth, and because of the large numbers of workers who leave these occupations and need to be replaced. However, those seeking the highest-paying positions will face keen competition." – Occupational Outlook Handbook 

"In 2012, the National Restaurant Association expects the restaurant industry to add jobs at a 2.3 percent rate, a full percentage point above the projected 1.3 percent gain in total U.S. employment. The industry is expected to gain back all of the jobs lost during the recession by early 2012, while the overall economy isn't expected to be back at pre-recession employment levels until 2014." 2012 Restaurant Job Growth According to the National Restaurant Association   Do you have a local culinary job you would like advertised?