When:
July 9, 2019 @ 12:00 pm – 3:00 pm
2019-07-09T12:00:00-05:00
2019-07-09T15:00:00-05:00
Where:
Worlds of Fun
4545 Worlds of Fun Ave
Kansas City
Missouri 64161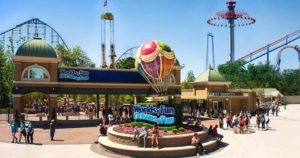 Join us on July 9, 2019 at Worlds of Fun!
Cheapest parking is available to purchase online at
www.worldsoffun.com
. Bring your ACF membership card or receipts for your ACF dues that proves you are with the ACF. Show your proof of ACF membership at the front gate and you'll receive admission for $10 plus tax each. At 7:00 pm the meal will be at the Grand Pavilion and over 20 dishes will be served. Bring as many people as you like! Worlds of Fun opens at 10am and closes at 10pm.
In the video below, Chef Wesley explains what you can expect from payment to parking. Be sure to let us know if you have any questions and we can't wait to see everyone there!
Worlds of Fun – July 2019 ACF Meeting

🎢 JOIN US for our July 2019 ACF Greater Kansas City Chef's monthly meeting at Worlds of Fun! In the video below, Chef Wesley explains what you can expect from payment to parking. Be sure to let us know if you have any questions and we can't wait to see everyone there! #worldsoffun #kcchefs #chefs #KC

Posted by ACF – Greater Kansas City Chef's Association on Wednesday, June 19, 2019