If you would like a job posted on this page, please email our webmaster and include a short job description and link to job contact.
Specific Local Culinary Positions
Job Opportunity 3/28/2023
Program/Project Assistant
Department: 3670053010 K-State Olathe
Job no: 514888
Employment type: Staff Part Time (Unclassified – Regular)
Location: Olathe, Kansas
Worksite: On-site requirement
K-State Olathe (http://olathe.k-state.edu) is seeking a part time Events Assistant. Reporting to the Events Coordinator, this position works with K-State staff and external clients in the planning, promoting, and coordinating of meetings, events, classes, and conferences. This position will be exposed to all aspects of event coordination and reception skills at a full-service event facility.
Learn more and apply: https://careers.pageuppeople.com/742/cw/en-us/job/514888/programproject-assistant
____________________________________________________
Job Opportunity 10/1/2022
KCKCC Culinary Arts Program is currently seeking a Culinary Arts Adjunct Instructor for the Spring of 2023
Kansas City Kansas Community College (KCKCC) is currently searching an adjunct faculty member to provide high quality, learner-centered instruction for students enrolled in Culinary Arts program while supporting the institution's mission, vision, and strategic plan. This is a POOL position. Application materials for this adjunct position accepted on an on-going basis due to increasing demand for courses in this subject area.
Go to culinary arts link and apply: https://kckcc.applicantstack.com/x/detail/a2s0rr3jjofv

____________________________________________________
Job Opportunity 6/16/2022
Executive Pastry Chef
Boutique Greek and French Pastry Shop
Since opening in 2008 Rias Restaurant has become a landmark in Jefferson City Missouri. The Greek style family restaurant is the latest evolution from the Totsikas Pizzaria Nepolitana group that was established in 1978. Chef/Owner and immigrant Gus Totsikas is realizing his lifelong dream of bringing Greek Style Pastry with classic French influence to the heart of Missouri. The planning for the newly remodeled restaurant is expected to open in the winter of this year. It will include traditional from scratch bake goods and artisanal desserts and pastries for the restaurant as well as special events and take out.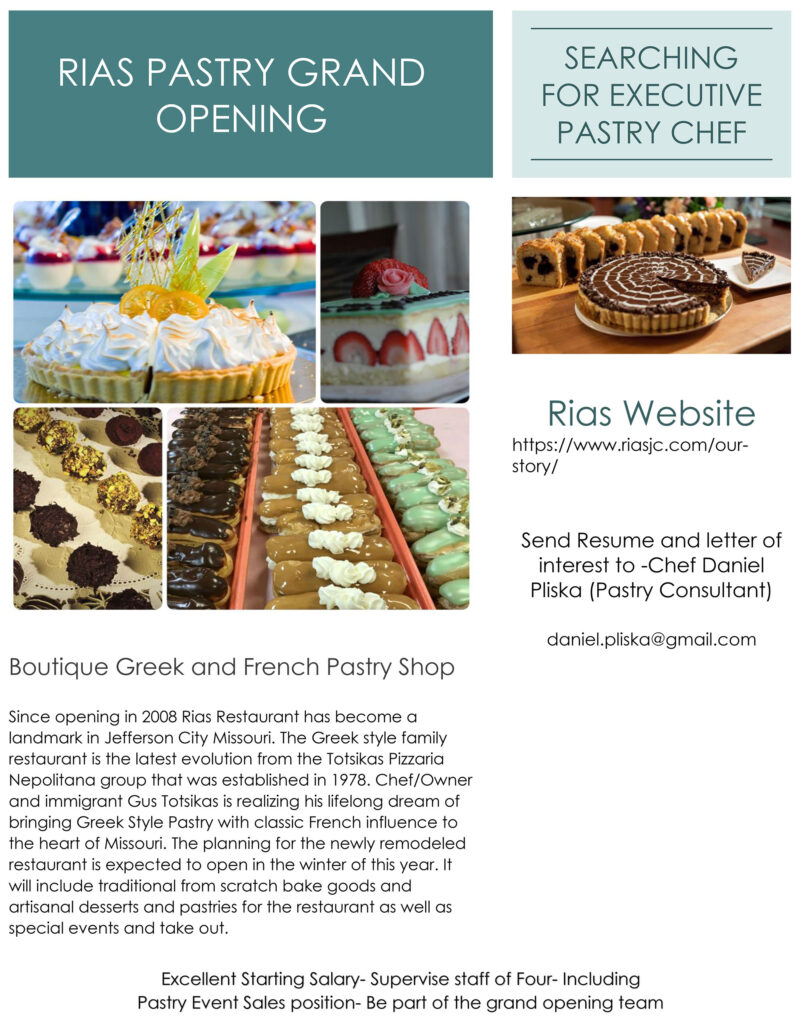 ____________________________________________________
Job Opportunities 5/24/2022
Executive Chef II
Tallgrass Creek by Erickson Senior Living, 13800 Metcalf Ave, Overland Park, KS 66223
Tallgrass Creek is a beautiful 65-acre continuing care retirement community located in Overland Park, just minutes from the Kansas and Missouri border. We're part of a growing network of communities managed and developed by Erickson Senior Living, a national provider of senior living and health care with campuses in 11 states—and growing.
Our Erickson Senior Living communities deliver an exceptional dining experience and plenty of variety to our residents. We offer our residents: restaurant-style dining, from-scratch cooking, multiple onsite restaurants, fresh flavorful food, and chef-inspired culinary creations.
  We are looking for an Executive Chef who brings their passion for great food, teamwork, and culinary experience to join our team of award-winning chefs and dining management talent. We are looking for a strong hospitality experience and a proven track record of success that will help drive our innovative Signature Menu Dining Programs which include from-scratch cooking and chef-inspired culinary creations.
LINK TO APPLY:
https://erickson.wd5.myworkdayjobs.com/en-US/external/job/Executive-Chef-II_R0022107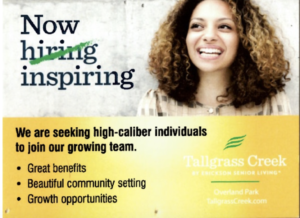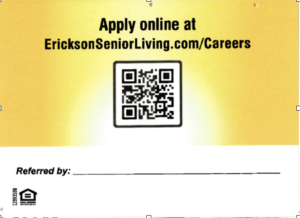 ____________________________________________________
Job Opportunities 4/19/2022
Boys & Girls Clubs of Greater Kansas City
Title: Food Service Coordinator
Department: Program Operations
Reports To: Unit Director
Position Summary

The Food Service Coordinator is responsible for overseeing the planning, development, implementation, and evaluation of the Child Nutrition Program for the club, including meal planning and preparation, service, maintenance and clean-up of the cafeteria.  Review and monitor the operations and activities of the cafeteria, provide leadership, supervision and training to program and volunteer staff; manage budgets and control expenses as assigned.
QUALIFICATION REQUIREMENTS:
Knowledge
Understanding of Human Resources policies
Understanding of BGC Youth Development Strategy
Knowledge and understanding of all State licensing requirements for Child Care Center Food Service
Understanding of operations, services, and activities of a child nutrition program
Management skills to analyze programs, policies, and operation needs
Principles and methods of planning and preparing meals in large quantity for club members
Principles and practices of program development and administration
Operating policies, rules and procedures of the BGC
Federal and State regulations governing child nutrition programs
Sanitation and safety procedures related to cafeterias
Pertinent Federal, State and local laws, code and regulations
Education
High School Diploma required.
Experience
Minimum of two years experience in the operation of a Boys & Girls Club (or similar organization) preferred.  Administrative or supervisory experience in a food service or institutional food service program including planning and preparation of food in large quantities, supervision of employees, food purchasing, menu planning, inventory, and financial reporting.
Find out more and apply: https://bgc-gkc.org/careers/current-openings/
____________________________________________________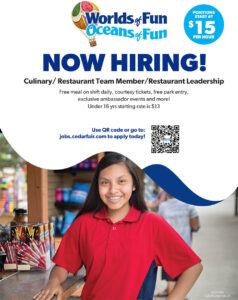 Job Opportunity 3/4/2022
Worlds of Fun is Hiring a Culinary/ Restaurant Team Member/Restaurant Leadership! Free meal on shift daily, courtesy tickets, free park entry, exclusive ambassador events and more! Under 16 yrs starting rate is $13 Apply today: jobs.cedarfair.com
Job Opportunities 2/3/2022
Grand Street Cafe
Currently recruiting for a Full-Time
Pastry Chef at our Plaza Location
In Kansas City, MO
Contact Owner – Rick Ghilardi
Phone # 816-561-8000
JJ's Restaurant
Currently seeking a Full-Time
Head Chef at our Plaza Restaurant
In Kansas City, MO
Apply on Salary.com

PF Changs
Currently accepting positions for
A Full-Time Executive Chef at
Our Country Club Plaza Location in
Kansas City, MO
Apply on Glassdoor or LinkedIn
Worlds of Fun
We are recruiting for a Full-Time
Culinary Lead Position in
Kansas City, MO
Apply on Monster, Snagajob, or on the
Cedar Fair Entertainment Company Website
Chef and Culinary Job's and Job Searches


Get Chef Jobs 

ChefsEmployment.com 

ChefJobs.com 

StarChefJobFinder 

WowJobs.com 

Search4Jobs 

Indeed.com 

CareerBuilder 

USRestaurantCareer.com 

FlipDog Search by State 

FlipDog Search by Title 

SimplyHired 

Monster.com 

LeisureJobs.com 

MyGulliver.com 

ChefJobs.co.uk 

HCareers 

Careerjet.com

The above job search links are set for Chef type positions. National Restaurant Association: Restaurant Job Growth Hits 17-Year High in 2012, Is Third-Largest Job Creator into 2013 February 7, 2013 The restaurant industry added jobs at double the rate of the overall economy in 2012, and the National Restaurant Association (NRA) expects this trend to continue in 2013. Eating and drinking places added jobs at a robust 3.4 percent rate last year, the strongest increase in 17 years, according to NRA's analysis of new figures from the Bureau of Labor Statistics (BLS). The restaurant industry is the third-largest private-sector job creator since the employment recovery began in March 2010. The solid restaurant industry job growth in 2012 represented the 13th consecutive year in which restaurant job growth outpaced the overall economy. Overall, restaurant employment currently stands 441,000 jobs above its high-point before the recession, while the overall economy is still down 3.2 million jobs from the pre-recession peak. "The sizable disparity in 2012 job growth marked the continuation of a long-term trend," said Bruce Grindy, chief economist for the National Restaurant Association. "In fact, during the last 13 years, the number of eating-and-drinking-place jobs jumped 25 percent, while total U.S. employment rose by only 4 percent." The NRA expects restaurants to add jobs at a 2.7 percent rate in 2013, a full percentage-point above the projected 1.7 percent gain in total employment. Employment gains will continue to be driven by growth in the number of locations, as well as existing restaurants staffing up to meet an improving business environment. "The projected 2013 gain will represent the 14th consecutive year in which restaurant industry job growth outpaces the overall economy, and the third consecutive year in which the industry registered job growth in excess of 2.5 percent," Grindy added. "In comparison, the overall economy hasn't posted job growth above 2.5 percent since 1998." 
Read more
Chef Jobs, Culinary Jobs, Salary Info, Chef Employment Search, and More
"Job opportunities for chefs, cooks, and food preparation workers are expected to be plentiful because of the continued growth and expansion of food services outlets, resulting in average employment growth, and because of the large numbers of workers who leave these occupations and need to be replaced. However, those seeking the highest-paying positions will face keen competition." – Occupational Outlook Handbook 

"In 2012, the National Restaurant Association expects the restaurant industry to add jobs at a 2.3 percent rate, a full percentage point above the projected 1.3 percent gain in total U.S. employment. The industry is expected to gain back all of the jobs lost during the recession by early 2012, while the overall economy isn't expected to be back at pre-recession employment levels until 2014." 2012 Restaurant Job Growth According to the National Restaurant Association