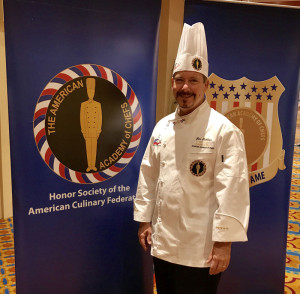 Known for his exemplary leadership and dining excellence, Executive Chef Jim Tinkham is now officially a member of the prestigious American Academy of Chefs (AAC), a culinary academy dating back almost a century. For Jim, the ten-year process of achieving this honor is a career milestone he will never forget. Click here to see criteria required to receive this prestigious honor:
http://www.acfchefs.org/ACF/Partnerships/AAC/Hall_of_Fame_and_Inductees/Hall_of_Fame_Criteria/ACF/Partnerships/AAC/HOF/Criteria
The honor society of ACF, the American Academy of Chefs (AAC) represents the highest standards of professionalism in the organization, society and industry. The Academy's primary mission is to promote the education of all culinarians by mentoring culinarians, awarding scholarships to students seeking a future in the culinary industry, and by providing grants to professional working chefs looking to further their career.
The Executive Chef at William Jewell College, Jim is a member of the Fresh Ideas Culinary Council in charge of helping set the food standards and oversee other chefs within the company. He also serves as the President of the ACF Greater Kansas City Chefs Association, a membered organization of the state's most distinguished chefs.
However, he is noted for more than his genius in the kitchen. Jim is heavily involved in community outreach and service, both important considerations for being inducted into the AAC. "The process isn't easy by any means," says Jim. "It's a ten-year commitment that requires a lot of dedication, experience, desire and of course, lots of paperwork and fact-finding."
Jim was recognized as a certified executive chef in 2001 and has always strived to become part of the highly acclaimed academy since beginning his culinary career. The AAC committee meets in the summer and names fewer than 20 members annually.
We're proud to say that this year, one of those names will be Executive Chef Jim Tinkham, now member of the American Academy of Chefs, inducted on July 11th during the American Academy of Chefs Fellows Meeting, Reception & Dinner at the ACF National Convention 2017 in Orlando, FL.
Jim Tinkham, CEC, ACE, AAC